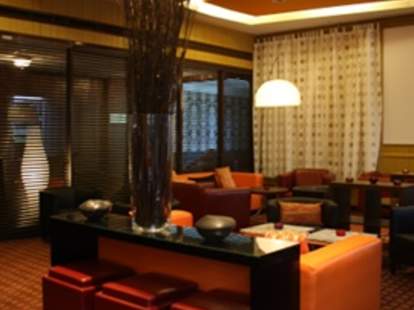 There's an art to seeing potential in something others dismiss, like the savvy NFL GM who snags a franchise tackle in the last round of the draft, or your best buddy, who you snagged in a franchise Really Tries Little Hustler with the last touch-football pick. Seeing and realizing potential on I Street, the hoteliers behind District Lounge SW.
Opening tomorrow night, the Lounge is an awesomely 70s mix of bright orange & red decor, huge poolside windows, and tiered, recessed lighting, tucked into the Capitol Skyline -- the ex- rundown Best Western recently renovated by the Rubells, a Miami-based family that's made a habit of resurrecting hotels they saw as "interesting" but others saw as "full of bedbugs". The menu's bar-gourmet, featuring starters like Southern Style Pop-Corn shrimp w/ citrus remoulade, and Wisconsin Style Bratwurst; and "A Little Bit Bigger" entrees like Pulled Pork Sliders, District Fried Chicken Wings, and Shrimp Quesadillas with fire roasted salsa, guac, and "chihuahua cheese" (apparently, you really can milk anything with nipples). Specialty cocktails are more sassy than classic, with titles like the Monkey Wrench, the District Woo Woo, Duck Soup, and the Eye of the Tiger, which will give you the courage to finally sack up and fight Mr. T.
Starting later this month, Fridays'll be smooth-jazzercised by DC's own Marcus Johnson on the keys, to be joined in a moment of trying-really-hard by you, after which you'll be triumphantly picked first...to get the F out.