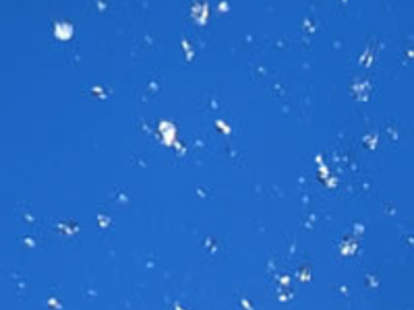 New Year's Eve is NYC amateur night -- hundreds of thousands of people clumsily engaging in the sort of excess you smoothly pull off every Saturday night (nevermind the occasional Tuesday). We suggest barricading your door and ringing in 2006 with one of these under-the-radar yet tasty celebratory beverages.
Cheap:Buy a caseSegura Viudas Cava Brut Reserva (Spain)$8, at Columbus Circle Wine
2000 Marques de Gelida Cava Brut Exclusive Reserva (Spain)$8, at Astor WinesThe Spaniards called their light and fruity sparkling wine "Spanish Champagne" until 1970, when France told them to step off. (They now claim they like the new name better, but nobody believes them.) Cavas are best served as an aperitif -- either before dinner, or before your second bottle of Cava
Domaine Ste. Michelle Blanc de Blancs, Columbia Valley NV (Washington State)List: $12, widely available for $10 "NV" stands for non-vintage, which means the final product's derived from several different harvests. We mention this in case you thought NV designated a sparkling wine grown in the lush terroir of Reno
Mid-range:Buy four bottlesDuval-Leroy Blanc de Chardonnay Brut Champagne 1996 (France)$33, at PJ Wine
Guy Charlemagne Brut Mesnillesime 1999 (France)$42, at Garnet Wines
Egly Ouriet Brut Grand Cru, NV (France)$40, at 67 WinesMichel Egly was at the forefront of the "Grower Champagne" movement -- small estates that started marketing their product themselves instead of selling it to big champagne companies that'd mix it with crap from less reputable vineyards to maximize profits. Egly's defiance has made him a cult figure in France, much like Bill Cosby, or that UFO cult guy who claimed he'd cloned a human being, which hopefully wasn't Bill Cosby
High End:Steal four bottlesSalon Blanc de Blancs Champagne Le Mesnil 1995 (France)$225, at Park Avenue LiquorA Blanc de Blancs represents the best in champagne making -- and as for the best-of-the-best, stores rarely carry more than a few bottles. You could go with a Krug Clos du Mesnil, but if you can find it, the Salon's quality is in the same ballpark for about $200 less. We've found it's best when paired with televised news reports about hundreds of B&Ters getting trampled in Times Square.