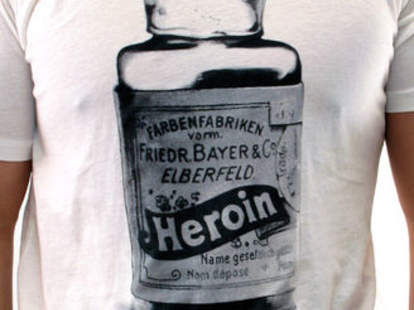 Addiction's a relentless grind -- one minute you're textbook-less because you're spending all your money on designer drugs, and the next you're ignorant and sober thanks to an even costlier jones: designer tees. Helping you get your hands on both of those sweet releases at once, American Apothecary
Emblazoned with old school advertisements for turn-of-the-century elixirs now known to be too awesome for legality, AA's from a pair of former assistant DA's who landed their law degrees and went the traditional route of slinging threads to "expand the public's knowledge of our absurd pharmacological history" (jk, pharma companies never lie!). The uber-luxe, 100% Peruvian Pima cotton, American-made T's are plastered with designs that include a bottle labeled "Heroin" (marketed as a respiratory cure all by Bayer); a regal, black & white lion draped with a banner reading "Dr. S.B. Collins Opium Antidote"; and an ad pushing liquid cocaine drops as an instant toothache cure, featuring a pair of bonnet-wearing children who've never been more earnestly pumped about building log cabins. Other great promos include a portrait of a prim female smoking Cigares De Joy for instant asthma relief, a newspaper promo for snake oil (for the rheumatoid), and a woman next to a mountain of food getting ready to banish her fat with "No Diet-No Exercise" through tape worms, a weight loss fad that was quickly replaced by the still-popular "No Freaking Tape Worms"
And while the cost of a tee would score you absurd oodles of crack, at least the brand's donating 10% of all proceeds to drug outreach programs across the country, a mixed blessing as when those people sober up they'll realize the pathetic limits of their knowledge of 18th century colonial agrarian economics...manifest destiny...or something.