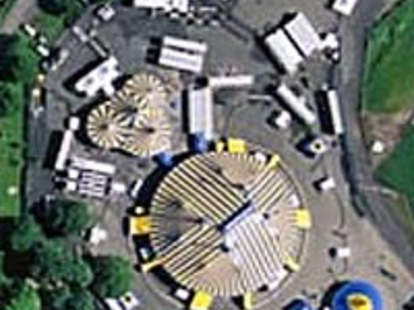 It's finally cooled down enough to enjoy a summer outdoor concert festival without your eyeballs melting. Luckily, there are still limited tickets left for the best of the bunch: AmsterJam, this Saturday.
AJ's an 8hr mash-up blowout thrown by Heineken and held on Randall's Island: a full day of sprawling lawns, beer tents, and RAWK.
Among the highlights:
Titans of Rock:Foo Fighters, Tom Petty and the Heartbreakers TP's been threatening to retire from touring, so this might be your last chance to see him 'til he returns from the grave as the Messiah.
Rap Moguls:Busta Rhymes, LL Cool J When Cool J busts out with "Going Back to Cali", you'll think, "I love this song, but who needs Cali when I've got Randall's Island?"
Latin Kings:Yerba Buena, Tego Calderon Hear Yerba's "Guajira" once, and it'll be in your head for 17yrs -- an unbeatable antidote to the "We Built This City" infection you've suffered from since 1985.
Mash-Ups:All of the AboveAmsterJam's known for artists hopping onstage with other bands. Dave Grohl knocking out "The Waiting" with Petty seems like a natural; Busta Rhymes rapping in Spanish behind Yerba Buena could hasten the onset of the HipHopcalypse.
So grab tickets now. Or else get your fix at an outdoor winter concert, and freeze to death listening to Björk.