The Art of Shaving's Brotherhood Night Out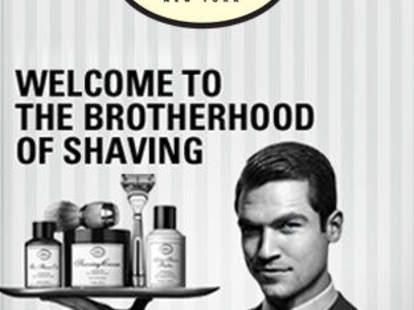 From the Round Table, to the table-clearing Fat Boys, brotherhoods have shaped the world for the better. Now The Art of Shaving wants to usher you into The Brotherhood of Shaving, whose membership's comprised of every man in the world who considers putting razor to cheek less of a chore, and more of a cherished ritual, though "cherish" isn't the word you should use to describe it. The Art of Shaving believes you could be a Brother too; because grooming's pointless if you're a hermit, they also want to send you and two friends on an epic NYC adventure, with stops at:
The Art of Shaving Store (Madison and 54th St): Get ideologically initiated into The Brotherhood with a complimentary Royal Shave at this new brick & mortar palace of pleasing men's products. Alliteration is amazing. Read up on the Store here
Velvet Cigar Lounge: This unpretentious stogie shack deals in rolled pleasures from Olivia, Tatuaje, Ashton & Romeo y Julieta, plus house-mades named after EV locales, including the The Cooper (Connecticut blend, earth tones w/ smooth finish), The Astor (medium w/ notes of coffee, wood, and nuts), and The Tompkins --- full-bodied, with just a hint of hassling-you-for-cigarettes-outside-7B. Find out more here
La Biblioteca at Zengo: This basement agave temple boasts 400 tequilas, astonishing variety culled from every level of producer, from the big guys, to artisanal brands so small, you couldn't find them on a map even if you could read Spanish. Further scoop found here
Zengo Restaurant: Richard Sandoval's Asian-Latin fusion house serves everything from miso-mustard Peruvian Wagyu tiraditos to braised short ribs with Oaxaca cheese, shiitakes, and huitlacoche, in a space sporting both a sake bar a 2nd floor mezz that also has a bar, saving you from yelling downstairs "Hey, sake it to me!". Grab more info by the horns here
To win all of the above, enter here. And remember: Brothers stand by each other through thick beard and...no beard.