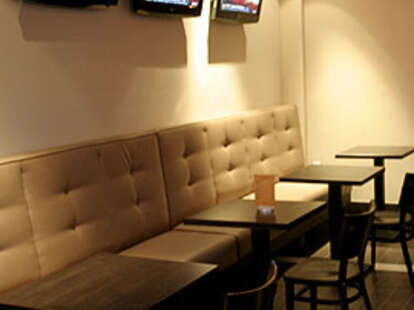 Abandoning the style that earned you your reputation takes guts -- as when Dylan bravely went electric, and Traci Lords bravely turned 18. Drink the fruits of another daring midstream switch, at Bar 108.
A roomy, tile-floored corner bar anchored by eight flatscreens -- four behind the marble-topped bar, four in back -- 108's the latest offering from the guy behind the elaborately themed Room Service, only this classically simple joint's dedicated to what you really do in a hotel, i.e., sit on your ass watching ESPN. And drinking as you fondle yourself. Booze includes a solid Scotch collection (Oban, Ardbeg...), global vino (Australia's Archetype Shiraz, Italy's Barco Reale), five taps (Hoegaarden, Guinness and friends), and 30+ bottles, from Magic Hat, to Blue Moon, to Brazil's Brahma (far more likely to turn you into a bum than Dharma).
Right now, grub's limited to pretzels and two sweet dipping sauces, but soon 108'll bust into their neighbor's space and add gastropub-style lunch and dinner service -- forcing you to bravely abandon your habit of eating whole meals of pretzels and two sweet dipping sauces.