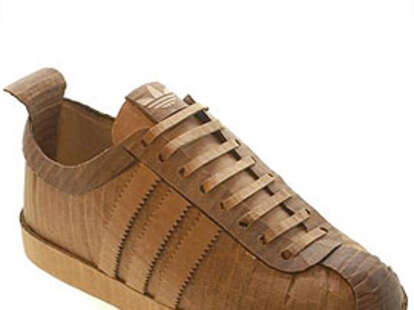 The bravest move in art's to rebel against classical training to follow a low-culture muse -- as with Marcel Duchamp's urinal, or the hip-hop Juilliard audition in Save the Last Dance, which you also spent most of staring at a urinal. Turning a bold "screw it" into sweet art for you, Mike Leavitt.
Not to be confused with the same-named former Utah gov, Leavitt began crafting a motley variety of apartment friendly, popcult-themed art after dropping out of Pratt to avoid working for whoever passes for "The Man" in the art world (sit on it, Printmaking 101 professor James Moroney!). The current centerpiece is Hip Hopjects, mini copies of urban artifacts recast in everyday materials, from the musical (the Bum Bag Ghetto Blaster in styrofoam and paper, a wood-carved cassette tape), to the tech-oriented (wood-carved old school NES controller and Super 8 handcam), to da feet: shoes and boots made from oil-stained cardboard, including Adidas Gazelles, Jordan I, III, and IVs, stiletto heels, and cowboy boots, which are definitely not made for walking. For the action figure-lover in you, Leavitt crafts polymer clay-made articulating tiny-likenesses of artists and contemporary giants (Andy Warhol w/ handcam, Ghostface Killah w/ mic, Obama w/ stars & stripes flowing from under a Morpheus-like trenchcoat), plus does commissioned work, with past requests including TED conference founder Chris Anderson, Bolivian president Evo Morales, and Dr. Phil gesturing from a soap box, perhaps admonishing Han Solo (Hoth Outfit) to start respecting himself and take a more hans-off approach with his love life.
More serviceably, Leavitt also custom crafts wedding cake topper figurines, the last toy a man will get to play with when he boldly defies his own low-culture muse, and marries.