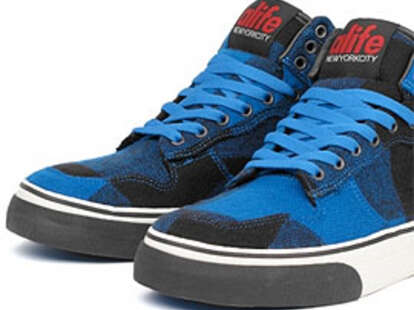 Schloads of Gear:Capsule's Neighborhood NetworkThrough Sun at various LES retailers In cahoots with travel site Superfuture, the Capsule menswear show has set up wallet-pleasuring discounts at 22 LES/Chinatown retailers this weekend, a deal covering kicks at A.R.C. Sports, new threads and vintage wear at Assembly, and all merch at Alife, something you're clearly needing if you hit all 22 stores. You should check this handy map for full deets
Unpronounceable Gear:OeltjenbrunsThru Saturday at 33 Bond Gallery: 33 Bond St, between Lafayette and Bowery Up to 50% off sleek black and grey combo jacket/hoodies, patchwork wool sweaters, high collar leather jackets, and Mandarin-collared button downs from tough-to-say, easy-to-wear new label Oeltjenbruns, probably endorsed by the Swedish Chef, but who can tell.
Eyeball Gear:Robert MarcOngoing at all 9 Manhattan stores, including 386 Bleecker St, at Perry; 212.242.6668; and 436 W Broadway, between Spring and Prince; 212.343.8300 50% off high-end specs and shades from Robert Marc, whose frames have appeared in everything from 90210, to 24, to CSI, to Iron Man, when they helped Tony Stark see everything but the obvious: the bald can't be trusted.
Timmmay! Gear: Tim Hamilton Thru Monday at 195 Chrystie St, 2nd floor, between Stanton and Rivington Up to 70% off everything from tailored jackets, to slim cardigans, to leather trenches, to an eye-catching slim-cut magenta suit, so you'll look sharp when drafted by the Pro Kickball League.
Euro Gear:Beau Brummel347 W Broadway between Broome and Grand; 212.219.2666 Offering 75% off as they close up shop for good, this Euro-tailor's peddling jacket and slack sets, suede sport coats and suits, and neckties from high-end labels like Thierry Mugler, Maria di Ripabianca, and Pal Zileri. Bonus: gratis martinis and Scotch, so you'll start behaving like everyone's your pal, not just Zileri.
Team Building Exercise Gear: Elie TahariThru Sunday at 75 9th Ave, W Suite, between 15th and 16th Snag up to 80% off subtly suave business-casual wear, including Merino v-neck sweaters, solid-colored polos, and navy striped button-downs with placket ribbing -- which the placket needed, because it takes itself way too seriously.
Stones Gear:What Goes Around Comes Around351 W Broadway, between Broome and Grand;323.826.0252 Up to 70% off vintage and new threads, including replica French naval jackets, bamboo Gueyabera shirts, and madras three-piece suits, all inspired by "distressed Cuban interiors, indigo Japanese textiles, and the early Rolling Stones on summer holiday" -- so before Brian Jones died, when they still dressed like women.