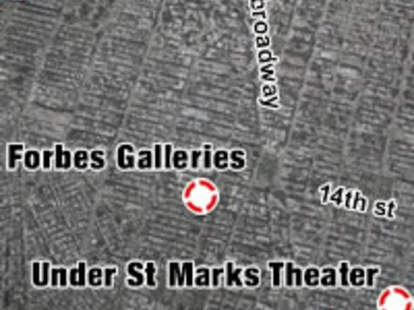 Periodically, NYC men feel guilty about not taking advantage of the cultural opportunities others pretend to care about. If you're around this weekend, here are four ways to ease your guilt without falling asleep or punching a mime.
Men Eat Mars Bars While Touching Their PenisThu-Sat, 8pm, at the Under St. Marks Theater94 St. Marks Pl, between 1st and A; 212.868.4444$15 at SmartTix.comSaturday's the final showing of this revealing stripper melodrama taken from the playwright's own experiences as a scantily clad cocktail waitress. As the show's stars lament their customers' lecherous perversions, you'll realize you could learn a lot about sensitivity. From their customers.
Treasures of The TitansTue-Sat, 10am-4pm, at The Forbes Galleries62 5th Ave, at 12th; ForbesGalleries.comTreasures showcases priceless baubles from powerful figures, including Ike's "Time to Build Some Highways" pocket watch and the Rocking Chair Cuff Links JFK didn't wear while sleeping with Marylin Monroe. Also, check out the permanent collection: classic toy soldiers, model boats, and historic versions of Monopoly, all stolen from Forbes' whiny kid in 1934
Salt DreamsWed-Sat, 11-6pm, at the Peer Gallery 526 W 26th St, Ste 208, between 10th and 11th; PeerGallery.comThis photo exhibit depicts the rocket launchers and racecar drivers who spend their days jetting across the vast emptiness of northeast Utah. It's the finest Beehive State work since Warhol shocked the world with his pop art Karl Malone postage stamp
New York's OwnWed-Sat, 2-7pm, at Fuse Gallery93 2nd Ave, between 5th and 6th; FuseGalleryNYC.comFuse's collection of youthful iconoclasm includes the beerily religious "King of Jews/King of Beers", and "Pryor/Hustler" -- an affectionate portrait of Richard, who looks like he's screaming "Cracker!" at you personally.
If you're afraid all this art will upset and annoy you, make sure you end your tour at Fuse, which is attached to Lit Lounge -- where you can drink with upset and annoyed artists, and, if you must, punch them.