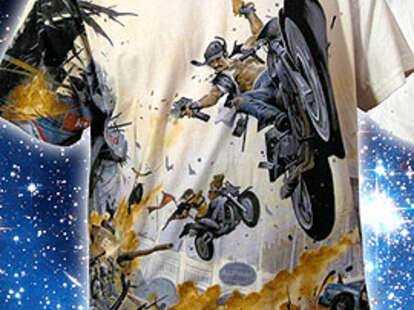 Man's used virtually every medium to tell his stories, from cave walls, to bubblegum wrappers, to video games...even books! Now spinning yarns on threads, Deth Killers, whose "Des Kiraz Volume 1" line is on sale now.
From a Bklyn cabal of biker-illustrators, Deth's breathtakingly intricate tee-pocalypse follows the adventures of the Killers, a circa 2019 NY biker gang defending their irradiated turf from a mysterious and malicious threat; the tale's played out over 10 all-over graphic'd shirts, an epic sequence that also solves the whole planning-your-wardrobe-for-the-week thing. Released two-per-week, the story begins with "The Battle of Yankee Stadiums", which depicts Uzi-wielding future-toughs speeding through the smoking ruins of both Bronx ballparks as they ventilate a motley crew of time-traveling warriors (Nazi stormtroopers, a T-Rex, Abe Lincoln firing a pistol from an ice cream truck) who'll stop at nothing to secure coveted unobstructed seats. The sartorial insanity continues with tee #2, a galaxy backdrop fronted by a "collagey" scene that "summarizes the world of DK" and includes armed bandits doing wheelies, a mustachioed, Yankees top-hat-wearing man evocative of a giddy pederast, a child with a duffel brimming with cash, and a helmeted stuntman wearing cowboy boots and an American flag thong -- apparently the Naked Cowboy's son goes by "Betsy Floss".
Deth plans to release all ten tees (#3's a motorcade across the Triborough as Manhattan burns, #4 a huge battle inside the Queensbridge houses) by December -- long enough that if you stick to your bubblegum diet, you too can be in a medium.