Downtown Wine Tasting Tour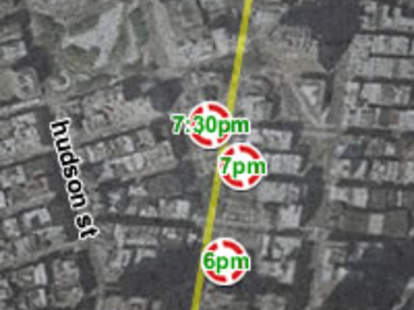 Last year we blazed a free wine-tasting trail through the Upper West Side. Now we've sorted out the best gratis tastings in Tribeca and Soho, for a regimented Saturday afternoon of cost-effective drunkenness:
START: 5pmChambers Street Wines (4-7pm)160 Chambers St, between Greenwich and W Broadway ChambersStWines.com The New York Sun recently dubbed Tribeca Manhattan's newest "suburb" -- and nothing compliments stroller-pushin' quite like a glass of bright pink rosé, the beverage CSW'll be serving up Saturday.
5:30pmTribeca Wine Merchants (2-7pm)40 Hudson St, at Duane; TribecaWine.com They'll be serving Sauvignon Blancs from around the world, including Cloudy Bay, Mud House, and Napa Valley's Grgich Hills -- whose vintner Miljenko Grgich says he treats all his wines like "special children" (i.e., he ages them in a cellar).
6pmLandmarc (11am-2am)179 W Broadway, between Leonard and Worth Landmarc-Restaurant.com Get something in your stomach: Landmarc's 5-cheese plate, perfect with a 1/2-bottle of Chablis or White Burgundy. Or order the Roasted Marrow Bones, perfect with an untippable bowl of slobbery hose water.
7pmBubble Lounge (5pm-4am)228 W Broadway, at White; BubbleLounge.com Mention Thrillist as you buy a glass of Billecart Salmon Brut champagne, and your 2nd glass is free. Mention Thrillist as you buy a 3rd glass and get an icy stare of disdain.
7:30pm:Vino Vino (5-8pm)211 W Broadway, at Franklin; VinoVino.net Every Thu-Sat, this wine store/enoteca hosts a "Summer Sippers" series. Hopefully your dizzying drinking pace will force them to change that unfortunate name.
8pmVintage New York (11am-9pm)482 Broome St, at Wooster; VintageNewYork.com Three free pours, also rosé, but for $10 you can add five samples of any wine in the store. Better, they'll hand back that cash if you make a purchase of $50+ -- which, to counteract the rosé, should be comprised of 20 bottles of Mad Dog.