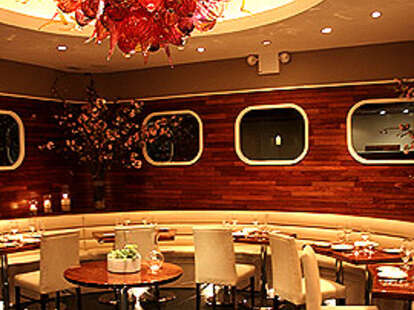 When successful men open restaurants, they tend to infuse them with their signature style -- like how Margaritaville's brimming with the ship wheels and tropical flora of Jimmy Buffett's nautical whimsy, and The Waverly Inn's brimming with Graydon Carter's asshole friends. For a moneyed merchant's stab at lux dining, try Harbour.
The first restaurant foray from an ex-chairman of the NY Mercantile Exchange, Harbour's a lavish, labyrinthian den decked out with ostrich leather walls, an octopus-like hand-blown glass chandelier, a teak bar, sleek portholes, and other trappings that suggest that that NYMEX gig came with yachting lessons. Including bar-side crudo (razor clams w/ lop chum and black pepper sauce, cobia sashimi, etc), the kitchen's plating mostly Asian-ish seafood and meats (white sturgeon w/ yellow curry; braised chuck steak with spicy eggplant, celery root, & cucumber raita), all prepared by a former Donald Trump exec chef weary of smarmy line cooks yelling "you're fired" at their skillets. The boozing keeps theme with cocktails named for seaside towns (the grapefruit & gin "East Hampton", the whiskey and Drambuie "Quogue"...), balanced by a surprising twenty vino bottles under $20, and four draughts from Oregon's Rogue -- which, like the same-named X-Woman, will drain your life force as you sloppily French kiss their hot-ass face.
Harbour's open for dinner Monday, and within weeks will start serving lunch and brunch, allowing you to grace every meal with your signature style -- that is, your own Graying asshole friends.