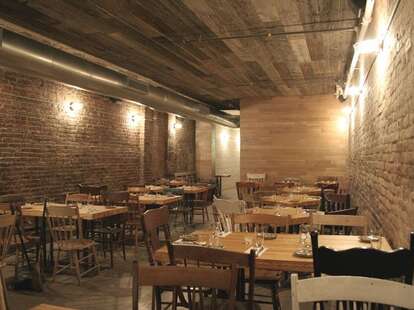 They say if you can make it in New York City that you can make it anywhere, but what if you made it in Brooklyn and you want to make it somewhere that people actually consider New York City? Out to prove their Manhattan worth, Hecho en Dumbo.
Relocating to a rustic Bowery location lined with exposed brick walls and sporting a reclaimed wood ceiling (reminiscent of an antique barn floor), dangling iron fixtures over a stone-surfaced bar, and a stainless steel kitchen surrounded by a surprisingly sushi-esque counter for private dining, H en D decided to make its move after outgrowing the BK space it shared with a daytime Italian wine bar, which turned into a real panini in the ass. Rigorously true to the cuisine of Mexico City (and making tortillas/bread in-house), small bites include Malpec oysters w/ creamy ancho chile sauce, and a brandy-infused sweetbread & pork terrine w/ spicy pickled veggies and bolillo bread; there're also easily shareable're trios of tacos, burritas, and sopes (corn cakes) stuffed with everything from banana leaf-steamed Berkshire Pork, to creamy blanched Mexican cactus, to wine-braised local steak, the eating of which will make you a cannibal. Meanwhile, house specialties include wagyu beef tongue w/ caper-chile poblano sauce; grilled pampano that's butterflied and rubbed on one half w/ cilantro and the other achiote; and a mole negro where the traditional Oaxacan sauce smothers the confit leg of a Guinea hen (Papua's got a brand New bag!).
For weekend warriors, brunch is broken down into three categories: Light (e.g., cheese balls w/ avocado oil), More Substantial (tripe stew, grilled beef w/ melted cheese...), and Breakfast, which reps a classic snapper/octopus/oyster ceviche atop Saltines, proving once they can make it in Mexico, hell, crackers can make it anywhere!