Heineken Light Summer Fridays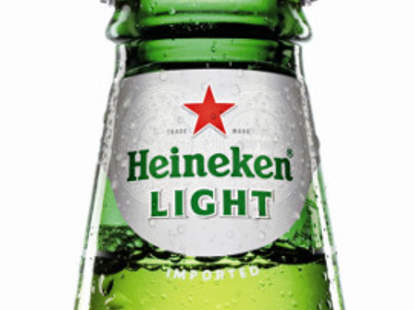 Summer Fridays are all about three things: Hitting the couch, Swayze in Roadhouse, and a lukewarm beer that might or might not be from 2006. Leaving work early, drinking great beer, and mingling with other people who also love great beer. Heineken Light is setting the tone and taking summer Fridays to a whole new level.
Because there's nothing better than a premium light beer during months when the sun's at its most premium, every Friday from July 17-August 28, the sun-drenched, tropic Maritime Cabanas will offer Heineken Light for 1/2 price from 4-8pm. That means you'll need seven straight excuses to leave at 4pm to go kick back with your fellow like-minded New Yorkers on a spacious hotel terrace, but you'll figure out a way.
Maybe you could fake a doctor's note?
This Friday's even better: from 5-8pm, show up for some Heineken Light on Thrillist, plus a spectacularly graffiti'd Happy Hour Clock from FLUD watches, DJ'd tunes, and, to help you ring in the weekend attractively, Heineken Light girls, who'll be doubly impressed by your taste in beverage, and the power you must wield at the office in order to be enjoying said beverage at, like, 5:01. So hit the Maritime this Friday, and the six Fridays after that. You'll have plenty of time to hear Swayze say "You're the bouncers, I'm the cooler" enjoy Heineken Light indoors this fall.
If all that's too hard to remember, click here (July or August) for downloadable Summer Friday schedules.
Click here to RSVP for the first Summer Friday.
Enjoy Heineken Light Responsibly ©2009 HEINEKEN PREMIUM LIGHT® LAGER BEER HEINEKEN USA INC., WHITE PLAINS, NY