<i>New York</i> Magazine's $25,000 Giveaway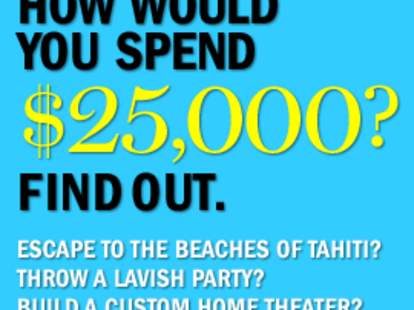 $25,000. People would do a lot for that kind of money: steal, kill, even risk humiliation at the hands of Pat Sajak. Instead of all that, get your big bucks handed to you by New York Magazine.
Yessir: NY Mag wants to give you the chance to win $25,000. No purchase necessary. Just enter your basics at NYMag.com, and you're in the running like Usain Bolt, or at least like Tyson Gay. Then, if you so choose, sign up for NY Mag's free email newsletters, Daily Intel, Vulture and Agenda, where you'll find all sorts of unusual stuff to put your easily won cash towards, like:
• Buying the Ghostbusters "Ectomobile" • Getting a makeover from Alec Baldwin • Recreating R. Kelly's Space Jam-themed bathroom -- an even more exciting place than the kitchen to have sex in, despite the lack of butter rolls
To enter, just click here -- you don't even have to buy a vowel.