Jack Spade Frog Dissection Kit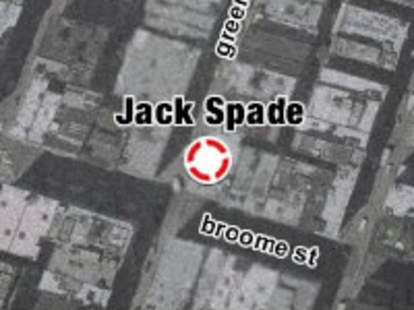 Seventh Grade frog dissection is a one-shot deal: puss out, and unless you actually become a science teacher, your odds of besting another Kermit to prove your manhood are nil. Until now: Jack Spade's Frog Dissection Kit, now available in his Soho store. The FDK was conceived by Kate Spade's husband, a man whose whimsy obviously overrides his sense of revulsion. Basically, it's a high-fashion version of that which freaked you even worse than the shock of growing pubes. The contents: one vacuum-sealed designer frog, tweezers, forceps, magnifying glass, moist towelette, ruler, tray, anatomy guide, and wooden probing sticks (useful for defending yourself if your formaldehyde-soaked specimen turns out to be undead).
To make sure you don't botch the job a second time, follow former high school biology teacher Dr. Andrew Wilmot's helpful dissection tips:
1: For stability, pin down the frog's limbs (the Kit doesn't provide straight pins, so pick up some at a drugstore, or your favorite sewing supply retailer).
2: Your initial incision should stretch neck-to-legs, with horizontal slashes at the top and bottom, like an H turned on its side
3: When incising, only cut one layer at a time. Create tension by pulling the skin towards you with the forceps, or you'll shred pristine internal organs into roadkill.
4: Cut cautiously around the kidneys -- if you have a man-frog, you'll slice through his magnificently oversized internal gonads.
The Kit does make a perfect holiday present for morbidly humorous friends (or a stomach-churning version of Operation: The Wacky Doctor Game). But mostly, it's an opportunity for you: to lay your green nemesis low, and scream, "Take that, Frog!" again and again, until you're taken to a place where it is you who is pinned down and prodded with sticks.