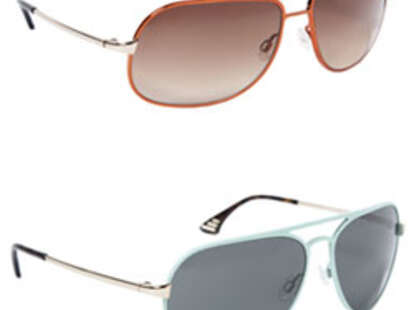 Everyone wants to be worshiped as a guitar god, but no matter the practice put in, most people still end up sucking, or worse, don't suck, but realize they're Joe Satriani. For guitar steez that only requires you have a face, KBL Eyewear.
From a NY husband-and-wife team with plenty of major brand cred (Moschino, Oliver Peoples, Marc Jacobs, etc), KBL's debut line of aviator styles meshes killer construction with colorways directly pulled from 50s, 60s, and 70s Fender axes -- oddly cutting off the decade that truly gave us Private Eyes. Built from luxe-quality materials including handmade Mazzucchelli acetate from Italy and metal alloy sourced from Japan, each frame delivers a seamless fit thanks to expert milled, one-piece construction; finer touches include stop-hinge technology to prevent temple arm/lens touching when folded, plastic-covered screws that prevent stretching, and, printed on the inside of the frame, handwritten names, just like your underwear waistband in camp, which also got pulled over your face. With colors painstakingly sourced from original Pantone books, each shade is complimented by flatteringly-hued, distortion-free, polycarbonate lenses: dark green glass gets set in the lighter, Beach Boys-esque "Surf Green" from a '62 Strat; reddish-brown goes with the '57 p-bass' "Inca Silver"; and non-colored jobs're hooked up in "Lake Placid Blue" pulled off a '66 Jazzmaster ironically found inside the same monster crocodile that ate Oliver Platt's career.
All this goodness is splashed onto seven slightly tweaked shapes, including two size options each for the rimless Some Ghost, the tear-dropped Silver City, and the more rectangular Game Face; and a single option for the more out-there Star Guitar, which'll keep solar winds from your eyes while Surfing With The Alien.