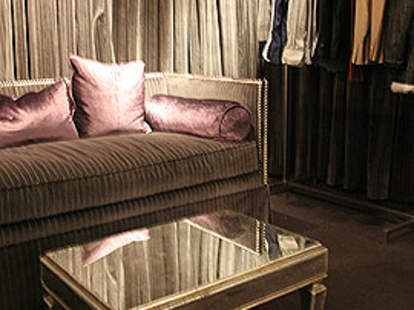 Nothing can stop siblings united: Estevez's sincerity plus Sheen's shenanigans made Men at Work work, and the Wonder Twins were pretty damn good at taking care of that monkey. Teaming up to help you dress yourself, the brothers at Kesner, opening Friday
An aristocratically pimp, two-floor corner boutique rocking pinstriped velvet walls, purple velvet armchairs, and antique chandeliers, Kesner's the first shop from an ex- Bloomingdale's buyer and his brother, a former Knicks operations guy -- one ensures sartorial refinement, the other gets you out of trouble when that refinement leads to "Orgy in the Escalade".
The shop specializes in modern takes on classic staples, like gabardine blazers and dress pants from Tony Melillo, eight button vests and birds-eye wool pants from Spurr, and early Stones-inspired rocker gear (pinstriped three-piece suits, leather and suede bomber jackets, etc) from NY-based What Comes Around Goes Around (what is that, a fat joke?).
More casual garb includes striped cardigans and leather vests from Robert Geller, broad-shouldered cargo vests and plaid zip-front flannels from SF-based Nice Collective, and Gilded Age's sturdy denim -- dyed using mud from a volcano, but not the one that should have killed Tommy Lee Jones
Kesner also purveys accessories like corduroy & wool ties from Alexander Olch and Barker Black, plus Italian-made aviators from LGR -- stylish enough to draw an onlooker's eyes up from your own wondrous twins.