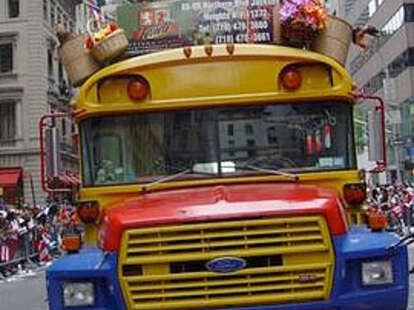 Sure, party buses sound magnificent in theory, until you find yourself touring the city in a sticky-floored jitney, or performing shameful acts for $500 and a pledge that your dad will never see the footage. For a party bus that delivers on its promise, hire La Chiva NY.
Chiva's a full-scale party bus service from a cadre of Colombian entrepreneurs who wanted to bring their country's proudest tradition to the States, but due to too-small rectums, settled for its 2nd proudest. The rig itself is brain-melting: room for 50+ revelers, with limo-like bench seats, disco lights, a fog machine, a full bar w/ bartender (slinging your choice of hooch or Colombian rum), plus a DJ booth w/ DJ who'll play your pref'd music or Colombia's greatest hits (damn, we already made that joke). Irresponsibly inexpensive seven-hour tours can start with festiveness at their set-to-open Queens cantina, or they'll pick you up anywhere to ferry you through Manhattan, stopping wherever you choose -- unless you're Sammy Hagar, the only way to successfully woo women by nodding toward your bus.
Because alcoholism knows no borders, Chiva also books three-day weekend trips to any regional destination -- a far more magnificent way to get Jersey Shore girls to get shameful than inviting them into the back of your ZipCar.