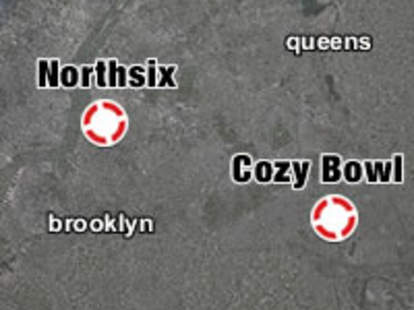 Whether it's Rocky Horror, or The Crying Game, most cult movie festivals are built around activities you might not be comfortable with. For a film-themed bash that jibes with your pleasantly uninspired lifestyle, hit next weekend's Lebowski Fest.
Lebowski Fest is a two-night blowout celebrating the epic saga of The Dude. The opening party's at Williamsburg's Northsix, and'll feature performances by Hair Supply ("A Metal Tribute to Air Supply") and Bling Kong ("4 cheerleaders, 3 drummers, 2 guitarists, 1 bassist, and a video DJ"), followed by a midnight Lebowski screening. For Sunday's main event, the Fest takes over Cozy Bowl (Queens), a 64-lane behemoth of leisure. The place'll be flooded with fans dressed up as The Dude, The Jesus, Walter, Donny, and, because without a nihilistic porn star this party would mean nothing, Karl Hungus. The costume competition is fierce: you could just do a J and throw on a bathrobe, but to draw raves, go as an obscure movie prop, or a line of dialogue (past notables include a check to Ralph's groceries for 69cents, and a get-up inspired by "I'll suck your c*ck for a thousand dollars" -- though Tara Reid blowjobs have depreciated sharply since 1998).
Unlimited bowling's included in your Saturday ticket. As for alcohol, everyone chugs White Russians like they hadn't gone out of style in 1952. With that in mind, Cozy stocks plenty of extra milk, but if you're intolerant, you should bring your own Lactaid -- or instead of having a Dude-ish good time, you'll be playing your own crying game, hunched over one of Cozy's bowls.