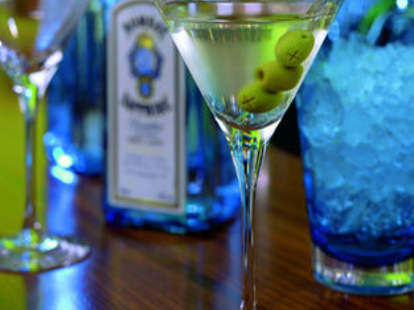 Most cause-related weeks aren't particularly rousing: America's "National Clown Week" is actually quite terrifying, while Australia's "National Literacy and Numeracy Week" presupposes the average man's literate enough to know what the word "numeracy" means.
Finally, a week -- or two -- we can all get behind: Martini Week, March 1st-14th
Martini Week is a citywide celebration during which over 20 fine bars and restaurants will offer their own unique interpretations for the cost of one splendidly wigged Hamilton -- blessedly reasonable in a city where history's perfect cocktail often runs closer to a lion-maned Jackson. Botanical offerings, all made with Bombay Sapphire Gin, range from Tao's fresh mint/muddled cucumber/sugarcane "Buddha", to Highlands' praline-pecan liqueur/lemon juice/orange bitters "Shoe Cobbler", served with a flamed orange twist in a glass rinsed with whisky, an innovation that's making water very, very nervous.
For vodka lovers, Grey Goose versions encompass Rayuela's exotically liqueured Xante & Canton "G Cocktail", Delmonico's dirty, bleu cheese-stuffed "Blue Tomato" and Madam Geneva's pistachio- and mint-abetted "Green Angel" -- green with envy, since angels are generally too busy making high-concept blockbusters to sit down and sip a martini.
As for timing: for this ecstatic 14 days, the Martini Week special will be available from 5:30-8:30pm -- a three-hour stretch even the quantitatively illiterate can get behind.