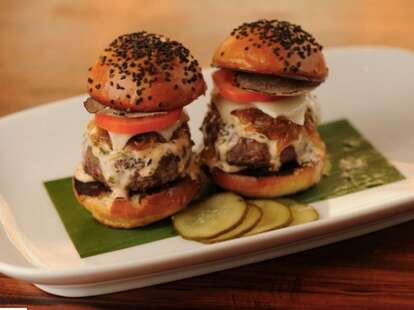 Because eating a good piece of meat shouldn't require feeling like cattle yourself, the sexy downtown steakery is bringing their resto-lounge good thing to the somewhat-less-of-a-poop-show environs of Midtown, decking the massive indoor/outdoor spot with familiar horn-lined walls and "theatrical lights illuminating each table", and naming their private rooms after burlesque stars Misty Ayers and Ophelia Flame, "Ifeelya flame!" being what the steaks all shout when thrown on the grill.
With a resume boasting time at Tabla and BLT (and a birth certificate from the meatiest of South American countries, Brazil), the chef is working up Small, Medium, and Large steak options including, respectively, loin strips, bone-in filets, and 34oz cowboys, any of which can receive a topping of black truffles, lobster, or the Bearnaise-y "oscar", whose inhabiting a trash can suggests it's the first time he's come out on top of anything.
In addition to signatures like Shrimp Rice Krispies and Foie Gras French Toast, plates exclusive to the new location run from yucca fritters w/ aged cheddar, to tuna tartare w/ foie & cachaca molasses, to spiced duck breast with sweet potato and crispy leeks, shockingly not just a spoiler-filled blog covering How To Make It In America.
And so you forget what part of town you're in entirely, they're unleashing new cocktails such as the seasonal Queens Sangria (w/ Cabernet Sauvignon and Pimm's), the chai-infused-whiskey Bourbon Palmer, and a gin, lemon, and molasses number called the First Date, though don't expect another one if you start treating people like pieces of meat.