Photo: Andrew Huff Just because David Chang is a household name and Momofuku restaurants are popping up in Toronto and Sydney like unwanted boners in a 6th grade math class doesn't mean his New York locations have lost any juice. And of all the Manhattan editions, none so seamlessly meshes refined cooking with an egalitarian attitude as Ssam Bar, a wood-decked sleeve on the corner of 12th St and 2nd Ave that has been luring in customers ever since it began life as a Chipotle-esque Korean burrito assembly line. Photo: MarianTheFoodie The pork buns that set Chang's career on fire -- two fat-riddled slices of belly counterbalanced with tangy hoisin sauce, cooling cucumber, a sprinkling of scallions, and a perfectly sweet steamed bun -- are always on the menu, while those looking to stuff their buns otherwise will usually find fillers like fried shrimp cakes and brisket. Photo: Fresh Local and Best While a meal here will devastate your dreams of becoming the next Muscles from Brussels, these sprouts are worth, saturated in a blend of fish sauce, rice wine vinegar & sugar, and topped with Thai chili, mint and fried rice krispies. Photo: Never Too Sweet For Me Another stand-by: spicy pork sausage and rice cakes w/ fried shallots & scallions. If you've got a crew of 3-6 and can plan far enough ahead in advance, grab a ressie for a whole roasted L.I. duck, whose skin is stuffed with duck & pork sausage before being rotisserie cooked. Photo: FoodComas.com Conversely, you could rub it in that duck-eating table's faces that you have twice as many friends as they do, and instead reserve the Bo Ssam: a Niman Ranch pork butt that's roasted for up to 8 hours with brown sugar and salt. Photo: The Insatiable Palate It'll arrive at your table with kimchi, bbq & ginger scallion sauces, white rice, and oysters, which you can load into lettuce wraps along with the shredded pork, a kingly meal that'll ensure nobody ever wants your boners.
Recommended Video
You Can Now Get Artisanal Twinkies Delivered to Your Door in NYC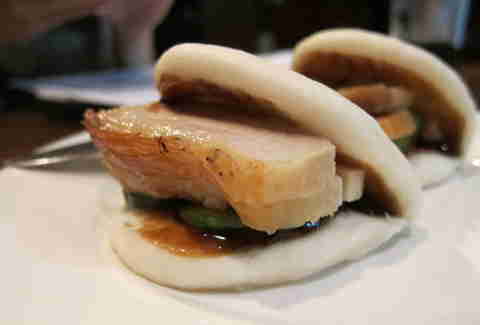 Previous Venue
Next Venue
Venue Description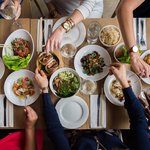 1. Momofuku Ssäm Bar
207 2nd Ave, New York, NY 10003
The word Ssäm refers to a Korean dish of wrapped meat, much like a burrito. Momofuku Ssäm Bar, David Chang's no-reservations, East Village restaurant centers around Ssäm and similar Korean street food, with a heavy focus on pork and offal. (Vegetarians, tread lightly: the menu states that meatless options are available upon request, but that's really what you're here for.) From the daily changing menu, staples that should be ordered without question include pork buns (a few, at least), kimchee (obviously), fried Brussels sprouts, cured country hams, and Ssäm, which is only available in large-format at dinner. Aside from a shorter table wait, lunch service offers individual Ssäm options like rotisserie duck, pork shoulder, and beef brisket. Always order extra pancakes.