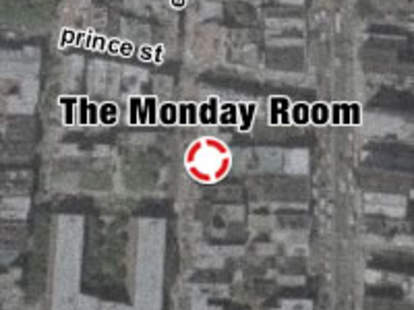 A great date spot can't just sit back and rest on its fat, disgusting, romantic ambience -- it has to work for you. The Monday Room, a quietly-opened wine lounge annexed to Public restaurant, does just that. Here's how:
It's Intimacy or the Highway: There's seating for about 20 (mostly two-tops, with some larger booths), and no standing's allowed -- banishing loitering date predators to the frozen streets. Or, more cruelly, to Sweet and Vicious
Drunkenness Moderation: It's vino only, with a focus on antipodean wines (Australia/NZ) -- so you can get buzzed enough to reveal your Lord of The Rings fascination, but won't run the risk of scotch sapping your own hobbit's sprightliness
Serving Size Choices: Go with a 1/2 glass, glass, 1/2 bottle, bottle, or a tasting flight of 2, 3, or 5 wines. The many options should bewilder your date into over-consumption -- because everyone knows that, except for the late 19th Century Russian mathematician Sofia Kovalevskaya, women are lousy with numbers
Pressure Relief: If you think antipodean means "not crushed by feet", the wine steward'll consult with you, then make a selection based on your preferences. Or you can just pick randomly and hope that whatever you drink isn't podean.
The date-friendliness continues with TMR's menu: mostly small plates, with some items (the glazed eel w/ soft-boiled egg and the confit duck-foie gras-vanilla ballotine) available by-the-piece. So you can sample surprising victuals, without them going straight to your fat, disgusting, romantic ambience.
Check out Monday's flight menu