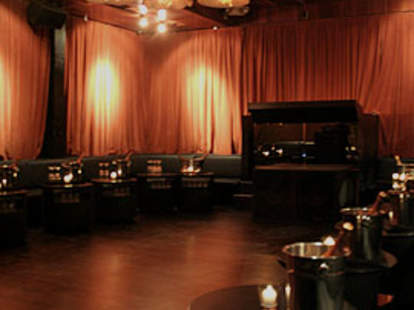 Though pleasantly free, Chelsea's gallery events are filled with art you don't understand, and preciously teensy cheese cubes that obviously don't understand you. Recharge with the bottle, at Mr. West.
Clad in a black-lacquered facade with LED-lit window slits, West is a sunken-floor, velvet-draped lounge illuminated by a chandelier made from 34 lily-shaped lampshades, and spied on by a wall of eye-shaped mirrors (here's looking at you looking at you, kid).
West being semi-dance-floor-friendly, the surrounding speakers'll pump out hip-hop, rock, ghettotech, etc, while an undulating light show beamed from the chandelier will be controlled from a DJ booth rising from the dance floor like a pulpit (sadly, you can't purchase indulgences for enjoying Rihanna).
As for guzzling, West's 8-seat, mirror-paneled bar's walk-up only; banquette-sitters get their very own bottle-service bartender, so the more money you spend, the less your bartender will work
With the pre- and post- gallery-opening crowd in mind, next month West'll start serving small plates (chicken satay w/peanut coconut dip, duck comfit, etc), which you will quickly understand aren't free -- sending you scurrying back to the galleries for infinite cubes of diminutive cheese.