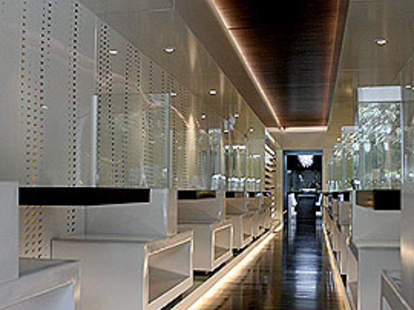 Men typically term a place "date-friendly" if it's filled with conversation-propping distractions, but on rare occasions you want it to be just the two of you -- like when she's pretty enough to leave with another guy. For serious face-to-face, hit up Naya.
The NY debut from an accomplished Lebanese chef, Naya's a futuristic-chic white sleeve centered around a long wooden runway dissecting twin rows of hyper-intimate, well-illuminated two-tops -- basically, the dining version of A Clockwork Orange's "Ludovico Technique". Momentarily distracting you from perilous intimacy's the menu: gourmet versions of traditional Mediterranean entrees, plus apps like the kibbe trio (beef dumplings stuffed w/ pine nuts), lahm bi ajin (baked dough topped w/ beef, tomato, onion & pine kernels), and olive-oil-basted makanek -- Lebanese sausage, not the He-Man action figure w/ sweet extending neck. As for drinks, there are unfamiliar non-alky concoctions like Jallab (grape molasses, raisins, pine nuts) and the yogurt-based Ayran, plus vino (South American, Cali, Lebanese) and cold bottles of Almaza, "the beer that made Lebanon famous, before other worse things made it famous".
For larger parties, Naya sports a white-paneled back room exotic'd up with perforated Phoenician patterns and sporting a large skylight -- perfect for those all-too-frequent dates that you wish were more "escape-friendly".