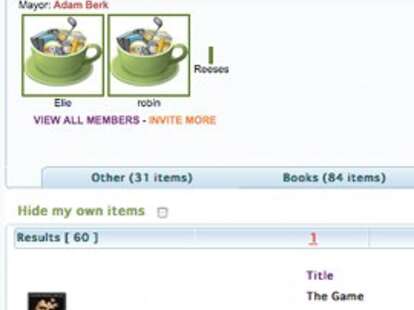 The problem with benefits programs is the catch -- like a sick on-site gym that accompanies a soul-crushing job, or the incredible sex that comes with a soul-crushing...job. Now giving you the perks without obligations, neigh*borrow.
Initially based exclusively on connecting friends/coworkers/neighbors via private groups so they could easily borrow useful items from one another, n*b's founders are branching off in a bold new direction by offering up an ample stash of their own stuff -- for free -- to anyone in NYC, because the best people to lend your things to are the friendless/unemployed/nomadic. The process is astoundingly simple: enter any item you want to borrow (and when you want to borrow it), hit send, and within the hour you'll receive email word on availability; if it's a go, then in as soon as 24hrs they'll deliver the item for free to your front desk or local coffee shop, so now you can poop and borrow stuff from strangers at Starbucks. Though they aren't publicly listing available goods, they're setting aside funds (garnered from private network fees) to purchase popularly requested items, augmenting an initial stockpile ranging from various media (video games, movies, books...) to bigger ticket fare like a set of golf clubs, and home improvement tools, i.e., Tim Allen.
The launch is limited to folks below 14th street, but the reach'll expand uptown after about a week, so there'll finally be a benefit to joining that other soul-crushing organization, the Upper East Side.