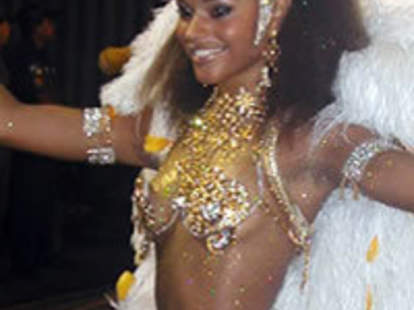 Don't celebrate Carnaval in half-assed fashion by flying to Rio. Go all the way. All the way to Newark, for the Saturday night blowout at Brazilian ballroom Palacio Europa.You may balk at hitting Northern Jersey for a tropical bacchanal, but Newark's "Ironbound District" boasts America's largest Portuguese population, plus thousands of Brazilian immigrants who fled their homeland's pristine beaches to live amidst beautiful industrial sprawl. They'll all be at the Palacio, rapturously grinding on the dance floor. Among the other highlights:
Bartenders furiously slinging cheap Brazilian beer from party co-sponsor Brahma.
A live, big-screen simulcast of the festival in Brazil. You'll be dazzled by an orgy of costumes, partial nudity, and the hemisphere's best pickpocketing.
A capoeira demonstration: With its fluid movements and jaunty soundtrack, this form of Brazilian Ju Jitsu tops our list of preferred martial arts to be killed by.
"Dancing mulatas": After their stage show, these samba babes will be conga-lining through the party wearing nothing but feathers, beads, and ecstatic smiles. Grope their jiggling behinds to experience the balletic devastation of capoeira.
Like Mardi Gras, Carnaval culminates on Tuesday, but between now and then every Ironbound bar will be thronged with exotic women overindulging in things they'll be repenting on Wednesday. Better to cram all your Carnaval in at Palacio, since more than one night in Newark means no amount of Lent can cleanse your soul.