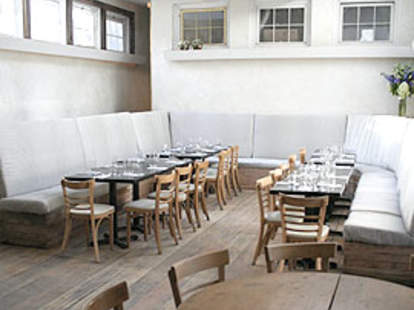 When virtuosos of evil collude, no scheme is too audacious, as the Pentaverate proved by running everything in the world, including newspapers, and putting addictive chemicals in chicken to make you crave it fortnightly. Scheming to lure you to Fort Greene, the guys at Number 7.
A white-walled hall with sun streaming in from cantilevered windows, 7's a breezy bar-staurant tucked directly behind the Lafayette C stop and helmed by a resto vet junta: a former Frankie's GM/sommelier, a former Perry Street chef, plus the designer behind all of Weather Up and "1/15th of The Box". Grub-wise, 7's plating French-American-ish (roasted chicken w/ carrot puree; grilled cod w/ New Zealand cockles; hangar steak w/ kimchi perogies...), all of which can be had for one Jackson and under (with generous tip, a Jackson Five). As for guzzling, 7's pouring Euro wines and a revolving cast of classic cocktails, but the good stuff's the six regionally-sourced micro suds on tap, e.g., Keegan's Old Capital, Genesee Cream Ale, Ommegang, and Peak Organic Nut Brown -- brewed with rare New Zealand "Hallartau" hops, it's the Maori Chieftain of Beers.
Soon, 7'll open an outdoor brick patio with seating for about 12, where the Pentaverate will meet biannually, as their ranks have swelled, and their secret country mansion in Colorado, known as "The Meadows", can no longer hold them.