Party with a tiki evangelist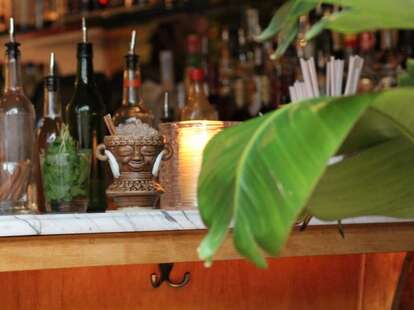 With the launch of Lani Kai's Tiki Mondays series, we sat down with the man behind the madness, Brian Miller (formerly of Pegu Club & Death & Co), and talked tikis, the bartending trade, and…sex moves! Enjoy:
So what's the deal with Tiki Mondays? I'm making tiki drinks the way I want to make them, playing the music I want to listen to, dressing the way I want to dress. Some of the guys at Pegu Club and Death & Company that i used to work with, and other friends throughout the industry can come in and bartend.
What's the deal with the drinks? We're doing a menu of 8-10 cocktails, a combination of classics and twists on those. Perhaps we'll try to throw in some new ones we create on the fly. The menu is going to change week to week, probably expand the boundaries of what constitutes a tiki drink.
What are some classics, and why'd you pick them? As far as the classics are concerned we'll do the 1934 Zombie and the Cobra's Fang, two of my early favorites from Don the Beachcomber. Tahitian Rum Punch and the Caribbean Rum Punch. I didn't want to start with a Mai Tai right away but I'll bring that in at some point. Definitely a Navy Grog. There's so many to choose from, so many I've never made before that I really just want to give it a try. I certainly want to do a Zombie Flight and try the '50, '56, and '34 variations so people can taste the difference. I want to do a flight of Rum Barrels, all the different Bastards...Suffering, Dying, and I don't know…the Incredibly Mean Bastard? I can't remember all of them.
Are the new drinks mostly your creations? Mine as well as the bartenders I'm going to bring in. The Norwegian Paralysis, which was Martin Cate's (of Smuggler's Cove) -- he's a big hero of mine along with Dominic Venegas -- is an aquavit tiki drink. It's not something people expect. It's all about different spirits, it's not just rum. I've got one with Scotch. I'm not intimidated to make my own classic-style drinks, but trying to create my own tiki drink, that's incredibly intimidating, it feels like the whole history of that movement is over your shoulder being like "Really? You want to do that? You want to put your stuff up against Don the Beachcomber?".
Why do you champion the tiki trend that, as opposed to others, like classics, molecular mixology, etc…? Well molecular is way out of my talent range. I was never good at science. I was lucky to have graduated college. Rum is just such a fun spirit to play with, and then when it's tiki it's more than just rum, it really was like a social movement in this country.
What'll sink you quicker: a Hurricane or a Dark & Stormy? I don't really even know how to answer this question. I haven't really had a Hurricane in God know's how long. I had one a while ago and it was one of the most disgusting things I think I've ever drank, so on that level I'll say that.
Better name for a sex move: Missionary's Downfall or 151 Swizzle? Missionary's Downfall, that's easy without thinking. Now a 151 Swizzle, that gets the mind moving.
If you had to make a drink called the Tiki Barber what would you put in it? 23yr-old rum.
So what's your secret? Like Phil Ward used to say it's like Mr. Potato Head. We look back at other classic recipes and try and put in our own little twists. Cocktails these days are basically like Kevin Bacon -- it's all six degrees of separation.