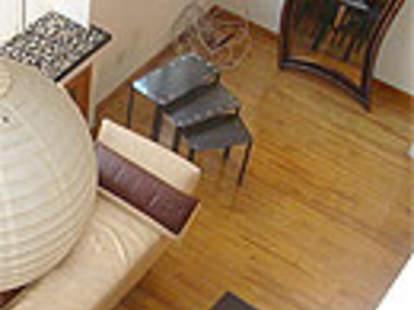 When women grow sick of men's idiocy, they band together and say "enough!" -- as you surely remember from Aristophanes' Lysistrata, and from when those sisters traveled in those pants. Ditching the guido-controlled strip scene and uniting for your tent-poled pleasure, NYC Strips and their Private Loft.
NYC Strips is a tight-knit group of club strippers who moonlight as private entertainers but, weary of both club manager chicanery and fetid hotel bedrooms, bought a loft where they can entertain clients in style -- basically, the clubhouse for a Booty League of Their Own. Sporting a spacious, pole-equipped living room for rumpshaking, a recessed balcony for private dances, and a zebra-striped mini pommel horse & mini spiral staircase for "advanced maneuvering", the Strips' pleasure-filled aerie is conveniently located in Murray Hill, though the girls insist they're technically in Tits Bay. Group package-wise, a very modest p/person fee gets you 3hrs open bar, three included lap dances, six dancers, and Strips' signature "real, in your face, very up close" show of hardcore girl on girl, also known as mammo-a-mammo.
Strips offers several group packages, plus can book specialty acts like Victoria the overdressed midget, and Randy the midget in a Superman costume -- because when it comes to vertically- and maturity-challenged eroticism, "enough!" is precisely waist-high.