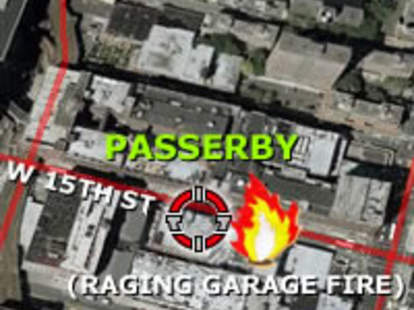 There's nothing like a terrifying parking-garage fire to remind you not to take your favorite bars for granted. As the smoke lifts from last Wednesday's West 15th Street inferno, we're thankful the blaze didn't eat up Passerby -- the ultimate spot for when you find yourself in the Meat Packing District, but desperately want to be anywhere else.
Just outside the MPD, Passerby's an upbeat, classy hole-in-the-wall. Its block is alarmingly devoid of life, and there's no sign out front to invite in the uninitiated -- perfect if you strike gold at the Gansevoort, but need to sneak her away from disapproving friends before they point out that you're an ugly pauper. Once inside, she'll be mesmerized by the lit up disco floor, and relieved to find a dive with good wines-by-the-glass. Meanwhile, you'll be mesmerized by drinks you can actually afford, and relieved to find corners so dark that you can covertly do to her the things that made you a junior high school legend.
Beyond inebriating comely strangers, Passerby's also equally suited for more casual affairs, like when you need:
a place to take your boys, who, despite being fantastic human beings, lack the bulging breasts/wallets necessary to get them past a velvet rope.
a friend. Bartender Eric Sanchez will gladly listen to your tales of personal failure, then repeat them for the amusement of other patrons.
a place to lose your boys, who, despite being fantastic human beings, lack bulging breasts/wallets.
For these reasons and more, we should all be thankful for Passerby, the escape from watermelontinis, bouncers, and the B&T who love them. Without it we'd be forced to burn the Meat Packing District to the ground, one raging garage fire at a time.