Fail to convince a billionaire heiress you're cultured here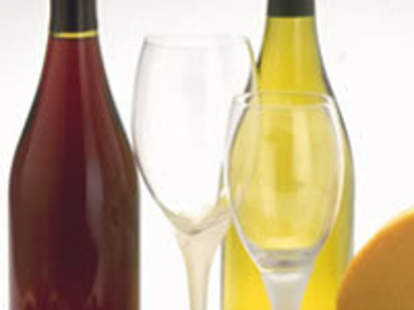 Thrillist would be lying if we said we weren't filthy scumbags. We enjoy mortal combat between animals and eating food we find lodged in our navels. Tragically, we also have a thing for the women who date captains of industry and their offspring. In order to satisfy our desires, we'll do anything -- including feigning wealth and worldliness. The next event we'll use to fraudulently enhance our appeal: PJ Wine's Spanish Wine Festival, Thursday June 23rd at Landmark on The Park.
The Festival serves up over 150 wines, as well as Jamon and tapas (or, for our stupider readers, "ham and snacks"). At $75 per person*, tickets are pricey. Then again, you're trying to woo a girl who's accustomed to private helicopters and diamond-encrusted sex toys (tycoons' sons are notoriously poor lovers, or so we tell ourselves on lonely nights). If you took her on a standard dinner date, you'd drop a fortune anyway. Besides, this is a charity event, so at least you'll know you're lavishing your savings on the five people in New York less well off than you.
Let's be frank here: The benefits are worth the outlay. Obtaining all you can ingest will not be a problem. This means you're going to drink a lot of wine. Just as importantly, she's going to drink a lot of wine. After three hours, you'll both be so "classy drunk" she'll completely forget that the two of you had to sprint the last three blocks because somebody stiffed the cabbie.
Of course, if you're reaching for a girl who prefers a cultured, altruistic man to the pig you see when you look in the mirror, there are other ways to meet her needs. But if you're too lazy to kill a philanthropic shipping magnate and steal his identity, this is a much easier route to proving how insanely sophisticated a guy like you can pretend to be.
*This event will sell-out so make sure you get tickets ASAP. Call 212.567.5500 If you miss out this time, the next event is The Grand Tasting on November 16th.