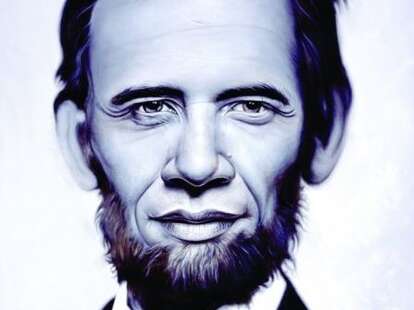 A great business plan can work for numerous products -- just look at Columbia House, who knew people would buy everything from DVDs, to books, to CDs, so long as they only cost a penny, and...wait, is that a Tori Amos album? Oh God, what have you done?! For a tee-selling scheme now pimping out art, hit up Print Society
Created by the Manhattan guys behind Rumplo, PS takes their original concept -- a marketplace where independent tee sellers can connect with consumers -- and substitutes print art for the threads, creating a flea market-esque hub of affordable art minus the danger of being seduced by mint condition Peter Cetera LPs. Housing a boggling variety of artistic styles and sizes, PS eases the perusal process by providing a number of search options, including filters for size/price/artist, plus curated lists of top rated works, recent posts, and editors picks, providing the helpful advice of a gallery owner without having to shamefully admit you don't know anything about art and only showed up for the free cheese. Highlights include an illustration of children fending off their undead peers with impromptu weapons ("Zombie Playground"); a photo of a silver-suited astronaut in a coniferous forest ("Spaceman"); the stenciled hair from each character on the cult Brit show The Mighty Boosh, geniusly titled "The Mighty Boosh Print"; and, in "Triangles and Quadrangles", Darth Vader's helmet composed entirely of said shapes, the greatest geometric interpretation of a space drama since "The Math of Kahn"
Beyond the browse you can create a collection of your top prints, follow your fave artists, connect via Facebook, and...wait, did you friend Joan Osborne? Oh God, what have you done!?