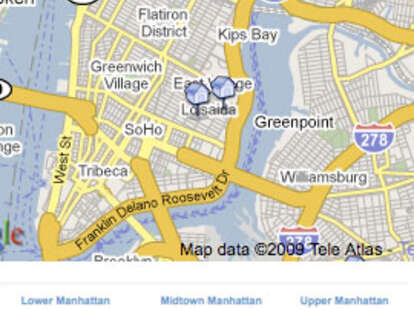 Once they become popular, valuable resources get overrun into uselessness by those intent on cheating the system -- like guys who enter HOV lanes with blowup dolls in the passenger seat (though considering what else they're used for, those dolls've probably earned a night on the town). Uncluttering the rental market, RentHop.com
Aiming "to be a better apartment finding alternative to Craigslist", Manhattan-only RentHop publishes available pads being marketed directly by landlords and mgmt companies, while excluding brokers entirely to avoid the spammy posts and bait-and-switch chicanery they've unleashed on Craig's and earlier sites. Their GMap filters by the usual criteria (price, beds, min/max rent) and nabe, and they'll also sort by ascending/descending price, and add listings to a favorites bin; click "Compare/Schedule" to see a faves list side-by-side w/ germane details (price, beds & baths, contact info) and the option to e-sched a viewing -- a great way to embark on a magical future of avoiding your landlord on the phone. Most entries are from larger landlords with multiple properties, but smaller fish can also post after Hop's vetted them by demanding direct contact info, a web site link to the mgmt co or building, and photos of the unit; they'll also call the poster and get them to swear they're not a broker, so the only hucksters likely to break through will be those diabolically cunning enough to say, "Uh, no, I'm not a broker"
Each month, Hop also publishes rent concessions from both management cos and individual buildings (three months free on 15-month lease, etc) -- if after all's said and done you need someone to vouch for your qualities as a tenant, you know who you have to blow.