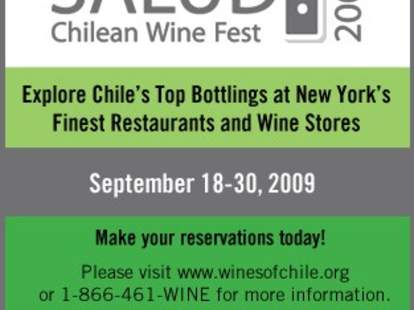 Chile might be the "Country of Poets", but without its wine, it'd be "The Country Poets Expatriate From, Because Isn't Wine Why We Got into the Poem Business in the First Place?" Experience the majesty of Chilean grapes for yourself, during the Salud! Chilean Wine Fest.
Starting on Chilean Independence Day -- September 18th -- and running through the 30th, Salud! is a two-week opportunity to thirstily descend upon New York's finest restaurants and sample Chile's unique grape variety (Carmenere), its signature red (Cabernet Sauvignon), its standard-bearing white (Sauvignon Blanc), and more. The dozens of participating restos include everyone from BLT Prime, to La Esquina, to Landmarc, to Telepan, to Michael Jordan's The Steak House N.Y.C. -- where, sadly, one cannot order the Beef Wennington. If food bores you, there'll also be free tastings at another dozen wine shops all across the city, including Alphabet City Wines, Astor, Best Cellars UES & UWS, and Bottlerocket, a store clearly named by hooligans who value the vessel over the vino.
For a complete rundown of restaurants and tastings, remember the words of Chile's greatest poet, Pablo Neruda: "Click this link. Seriously, click it now, if you want to find out where the wine's at." Brilliant.