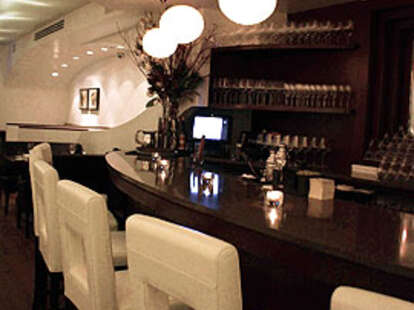 Germany's warm tradition of feast-til-fatness may be the only thing that can restrain their postmodern slide into coldly efficient, techno turtleneckedness -- without it, the entire country will be feasting on pills. Enjoy the push and the pull, at Seäsonal
The NYC debut from two vaterland resto vets, Seäsonal's a white-walled curvilinear sleeve rocking a sleek mahogany bar and sparkling, latticework-like "light branches" on the ceiling -- all in, like a getaway nook on the cruise ship from The Fifth Element (oh, great, Space Germans).
Modern twists on Bavarian classics include Fledermaus (flat iron steak w/ bone marrow horseradish ragout and oxtail consomme), Kaisergulasch (braised milk-fed veal cheek in red ginger broth w/ quark chive spatzle), and the ravioli/trompettes/peas dish unfortunately known as Schlutzkrapfen. As for drinks, Seäsonal's pouring from a staggering Deutsch-centric list of whites (Grüner Veltliner, Rieslings, etc) and reds: Spätburgunders, Zweigelts, and others that might taste delicious, but sound like ordinance in a Harry Potter loogie competition
As for beers, there are only four: two drafts (Radeberger, Hofbrau) and two bottles, Ottakringer from Vienna and Stiegl from Salzburg, home of The Sound of Music -- the very movie that made robotic bleakness look so good.