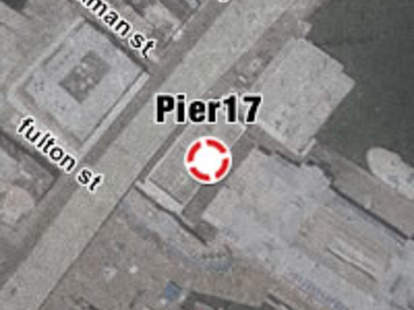 South Street Seaport's no longer just a place for tourists and the flayed "Bodies" of Chinese human rights victims. On Friday, the summer-long Seaport Music Festival kicks off, and we suggest attending.
The SMF is a free concert series held on Pier 17, where the breeze eases the stifling hotasballsness that plagues summer outdoor events. Some of the acts are poised to break out (Hot Chip, Aug 4). Others are near-death, but still a blast to see live -- like the Sugar Hill Gang (July 20), now almost as old as the granny who covered "Rapper's Delight" in The Wedding Singer.
What you need to know:
It's really free -- none of that "suggested donation" nonsense used by other outdoors concerts, museums, and car dealerships.
There are beer (and hotdog) carts everywhere. For mixed drinks, ask a nearby restaurant for a Styrofoam to-go cup -- not technically legal, but universally ignored.
You can bring lawn chairs.
You can smoke. And, there are hand-rolled cigars available near the stage at the Cyber Cigar Coffee Bar -- so you can enjoy annoying other concertgoers as much as "Cyber Cigar Coffee Bar" annoys you.
All told, the Seaport will host 20 shows. Attend them all, and between the hot dogs and beer, some day tourists will stare in awe at the display made from your hideously tortured organs.