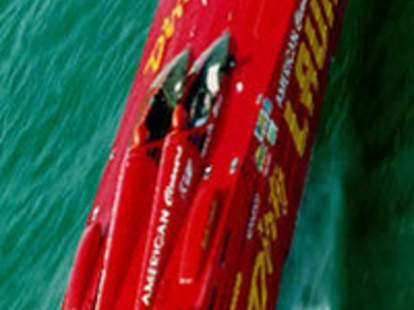 Watching men court destruction at blinding speeds is undeniably thrilling. In Manhattan, it's usually limited to watching NASCAR on FOX or peering through the Plexiglas divider of an out-of-control taxi. Except, of course next Saturday, when the 14th annual New York Super Boat Grand Prix comes to our second favorite river
The Race: 17 laps and 100 miles of the planet's fastest* powerboat racing.
The Boats:
Super Boats: horsepower in the 4000s, average speed 112mph. Capable of 160mph+.

Cost: About a million

Super Vees: superior hydrodynamics help them whip Super Boats in ocean swells -- but in the calmer Hudson, regulation 525hp engines leave Vees sucking wake.

Cost: Less than a Super Boat, more than a taco
Where to watch:
What to watch for:The Bacardi Silver boat: David Scott and throttle John Tomlinson will be schooling their more sober competitors. Quitters (the attrition rate's extremely high due to the unusually long race). Floating garbage, logs, and kayaking spectators. When hit at 100mph, these will tear a boat's gear casing off, resulting in a dramatic, Daytona-style spinout.
So maybe you'll never see a stockcar careen into a bodega at 200mph, but this is your chance to watch a powerboat explode into flames at the feet of the Statue of Liberty
You're welcome.
* Speed record holder Ben Robertson has foolishly promised Thrillist readers a nickel tour of the pit area. To take him up on it, swim to Liberty Landing Marina in Jersey.