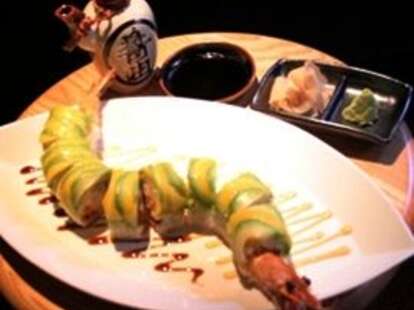 Drastic changes can be fraught with peril -- following Sean Connery's smooth 007 with blubbering, marrying-kind Lazenby proved nobody was ready for Jane Bond. Sparing themselves the Lazenby, Tanuki Tavern.
After dodging a much-discussed shift into corporate steakery, China Grill MGMT decided to convert the Ono space into something similarly inspired by Japan, and has produced a grandiose izakaya-style pub; the bi-floored interior's been revamped with a more rustic vibe, including details like bamboo floors, rich wood shelving, floating paper lanterns, bars made from reclaimed timber, and most authentically an "eclectic soundtrack of American rock and soul". Chef'd up by a Megu/Bouley alum, savory bar snacks include crispy baby bok choy w/ lemon pepper and chicken meatballs in a rice crust w/ spicy ponzu, while starch comes via yellowfin tuna spaghetti Bolognese and oxtail fried rice; meanwhile, Hibachi Fire Bowls -- served in a clay pot over hot coals -- include miso-marinated sablefish and Creekstone prime hanger steak, and entrees run from crispy rice w/ teriyaki squab, to pear-marinated short ribs, to the uber-spicy Baked Maine Lobster Dynamite, though everybody knows that J.J. came from Florida. For ODBs who like it raw, specialty rolls're highlighted by the Yellow Jacket (hamachi/jalapeños wrapped in yellow soy paper w/ blue crab salad), the Smokey (smoked tuna/salmon/caviar with BBQ eel and cream cheese), the Sesame Crusted Tuna Tataki (eel sauce drizzle), and the poached-Maine-lobster-wrapped-in-Wagyu-carpaccio Surf & Turf, because sushi can be expensive, but getting the gout is riceless.
Easternized tippling's accomplished through a hefty portfolio of rare sakes and Japanese craft brews, plus cocktails like the housemade honey-ginger syrup'd Yamazaki Sidecar, the Oraku Mary (Imperia/sake/sriracha bloody blend) and the Bombay/cucumber/lime Shiso Bura Bura, which you'll ask to be made in the style of your preferred Bond flicks: shaken, not her'd.