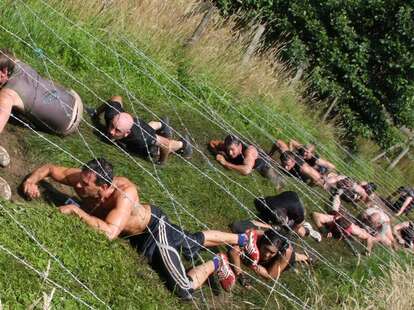 From marathons to cross-channel swims, endurance events are peerless character building opportunities designed to push contestants to the limit...of total monotony! For an event that'll leave you sobbing and exhausted but never bored, enter Tough Mudder.
A blood spilling, chest hair growing, balls-to-the-wall obstacle course set up across 7 miles of unrelenting off-season ski mountain, Mudder's inaugural US challenge is the brainchild of two Brit buds who designed the layout based on their own terrifying real-life experiences: hunting down terrorists in the Middle East, and...being a lawyer! The madness starts with the 'Braveheart Charge', with all 5000 entrants unleashing a battle-cry while sprinting downhill towards challenges that include a frigid hands-and-knees scramble up man-made mounds of snow, pointlessly dragging logs up a ski slope, energy-sapping treks through knee-high pits of thick mud, and "The Devil's Beard", thankfully an extended crawl under "annoyingly low" cargo nets, and not a face off with Katie Holmes. The kaleidoscope of self-hazing continues with "The Ball Shrinker", a rickety rope trek over a pond whose ice was removed only an hour earlier; a swim through 'Underwater Tunnels' which promise to "shrink your head to the size of a walnut"; the colon voiding 'Fire Walker' sprint across kerosene soaked straw will spout flames four feet tall; and a final "mystery" challenge, which is being kept under wraps 'til race day, but can only be assumed to be a shiatsu massage, at the hands of Jeff Gillooly.
For the survivors, there's a Dogfish Head-sponsored after party where there'll be costume prizes for Most Bad-Ass, Most Dumb-Ass, Most Ass, and Most Likely To Have Been In The Village People, named for a band of peerless characters who pushed listeners to the limit...of gleefully staying at men's-only flop houses.