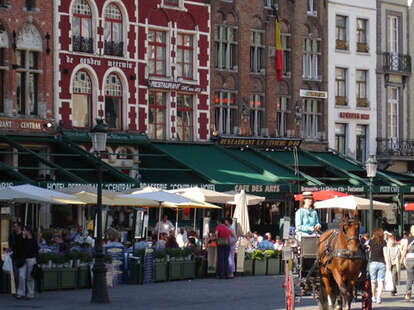 So many Belgian beers are on New York menus these days even those dedicated to sampling every last one may end up confused, which is unsurprising considering they're, like, 10% ABV. Helping you clear things up, on a boat, Bon Beer Voyage
Started by two longtime industry vets/beer-&-travel junkies who wanted to step up to the level of vino tourism, BBV's inaugural Belgium trek's an exploration of the country's storied ale history from Bruges to Brussels via a series of canals in a barge (but not a DeBarge, as Belgium's nights can't handle all that rhythm).
Each day you'll disembark at a different port (Ghent, Baasrode, Antwerp...) to take in the local flavor...of beer, through seminars, expertly-paired gourmet meals, and expeditions to vaunted watering holes & mind-boggling brew stores guided by a personal "beer hunter", a role played in movies by Christopher DifficultyWalken.
Each stop also features at least one unique brewery visit, from the Saint Sixtus abbey, whose monks make Westvleteren (oft touted as "the best beer in the world"), to Moortgat, producer of Duvel (and owner of NY's Ommegang), to Gruut, which practices the centuries-old tradition of brewing beer that's hopless, a trait that explains why Europeans develop such great basketball fundamentals
If you can't make the trip they'll use their connections to hook up a custom one at a date that works for you; other treks in the works include a pub/brewery tour through Ireland, and even weekend "safaris" in Florida, a state inhabited by people confused by everything on menus.