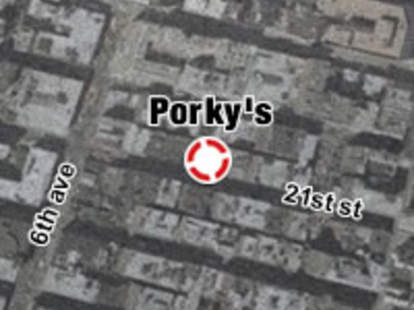 Tomorrow's Fat Tuesday, an All-American holiday marked by a slight increase in your habitual Tuesday alcohol consumption. This year, use your powers of drunkenness for good at the Tulane Club of NYC's Mardi Gras Party and Benefit.
Open to all comers, the TC's bash brings together all you need for authentic New Orleans debauchery: music, food, booze, and hosts who managed to matriculate in The Big Easy without failing out/moving back in with their parents in The Long Island-y. Your cover gets you a BBQ buffet from 8-9pm and open bar from 9-10pm -- the staggered times should help you focus on over-eating and over-drinking individually, instead of failing to accomplish both at once. Hurricanes'll be $5 all night, with live music by Knitting Factory regulars Captain Coconut (whose being in high school "in no way inhibits our funk"). There's also a Best Costume contest you shouldn't enter, and a raffle you should: prizes include an all-inclusive Hamptons weekend, tickets/transport to June's NJ Crawfish Fest, an open bar party for 15, and autographed Tulane sports memorabilia -- which'll help you remember that Tulane actually fields sports teams
Best of all, your Fat Tuesday cover goes straight to Katrina relief. Even if you've already given, they are rebuilding an entire city and so could still use your $25 -- otherwise, how will you face Staring Into A Toilet Wednesday with a clear conscience?