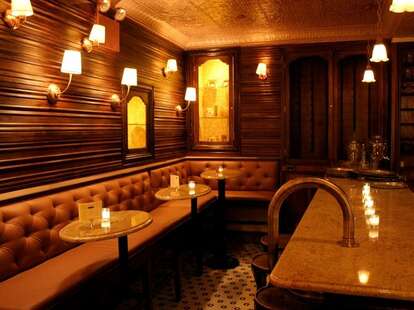 A famous band once sang that two is the loneliest number since the number one, but if Third Eye Blind was so smart, how come their life was only semi-charmed? Wait, who's Three Dog Night? Are they lonely too? For a food den tackling two concepts in one space, hit Village Tart.
From the Permanent Brunch honcho and the prolific Pichet Ong, Tart encompasses two split-but-complementary personalities: a crisp, white-tile-floored, glass-filled bakery and coffee bar, and a cozy cafe with rich wood veneer walls, a fireplace vintaged up with an arched cast-iron insert, and loads of mirrors, from which your concerned reflection will inquire after the ragingness of your boner. The bakery's ready-made menu's divided between savory & sweet, with the former including tarts (shrimp pot pie w/ sherry cream, mushroom & Gouda quiche) and pizzettas (prosciutto & fig w/ walnuts, peking duck w/ hoisin sauce & scallion pancake crust), and the latter covering more than twenty bites from pistachio yogurt cakes, to grapefruit curd tarts, to a fresh squeezed lime & tequila Margarita Bar, which surely'll cause a jealous Margaritaville to exclaim "Son of a son of a bitch!". Meanwhile, on the cafe side the "upscale but uncomplicated" fare kicks off with snacks of spiced deviled eggs and wagyu beef franks in a blanket, and starters of hamachi ceviche and tuna w/ milk poached veal, while more substantial 'stuffs include polenta souffle, meat or vegetarian lasagna, apple cider short ribs, and mac & cheese made w/ Humboldt Fog, a phenomenon that curiously makes you crave more cheese, man.
Adult bevs're on the way, but currently you can slam back single origin drip coffees hailing from Nicaragua and Ethiopia; fresh-made, exotic frescas from pink guava to lychee; and variously flavored organic smoothies called Sassy Lassis, who're the very reason your mama told you not to come.