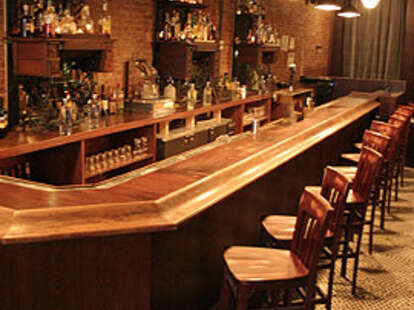 All your essential details are kept on file for easy referral, from the medical history that reveals your last checkup for Lyme Disease, to the tax returns that reveal you've been faking Lyme Disease to try and avoid paying taxes. Helping you remember that which makes you forget, Ward III
A brick-walled and velvet-curtained saloon rigged with wrought-iron Moroccan gates, a back bar made from Singer sewing machines, and black high-backed couches reclaimed from Wakiya, Ward's run by Tribeca bar vets (Odeon, Macao, Grace) offering a double shot of service: they'll not only craft "bespoke cocktails" tailored to patrons' ill-to-well-informed desires, but they'll also keep that recipe on file under your name, to refer to when you return and request "fix me that drink from that time with that stuff". Rather than unromantic e-storage, the back of Ward's drink coasters will double as filing cards (name, drink name, ingredients, date); if you're not that particular, the barkeeps also pour 10 draughts (Lagunitas, Kronenbourg, Sweet Action...) plus menu'd concoctions like the Blanco (silver tequila, crushed peppercorn, basil leaf...), the Ward 3 (Maker's, egg whites, bitters, strawberries...), and the lime/sugar/vodka Moroccan Martini -- which, like that country's dancers, is best served jiggled. Because eating lets you drink more, Ward serves sit-down or at-the-bar dinner, including plates both big (three pork and meatball sliders, wild mushroom lasagna, mac & cheese) and small, e.g., deviled eggs, cured meats with parmesan, and bacon-wrapped dates (also the #1 fetish site in Canada).
Within the next few weeks, Ward plans to start lunch service -- information you should keep on file for the next time you need an excuse to go to a bar at noon.