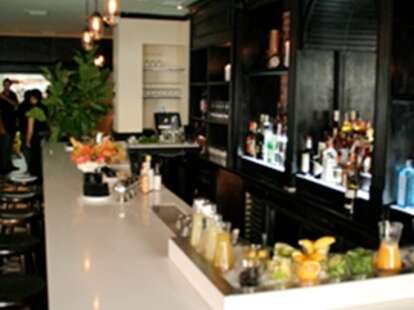 The same mission can be accomplished through subtly altered approaches -- like using a spinner instead of a wobbler to land a bass, or using exploding arrows instead of a knife to land yet another insufferably ubiquitous mid-1980s Vietnamese soldier. Fueling you with subtly different takes on their Latin food and booze, Yerba Buena Perry, opening Tuesday.
Taking its predecessor's popular combo of cocina Latina and high-end cocktails over to the West siiiide, YBP avoids self-plagiarism by whipping up a slew of new eats and imbibables, served in an ultra-sexy corner space with a big-tiled floor, dimly lit lamp-style hanging fixtures, white leather banquettes and walls yang'd respectively by dark wood tables and paneling, and a white, fruit-and-fresh-juice topped bar. Freshly conceived comestibles start with five ceviches (flounder w/ chilis/red onion/sweet potato/popcorn; Toro "Taquitos" w/ habanero salsa & avocado; seared rib eye w/ sea urchin) and bar bites like manchego croquettes w/ pickled jalapeno & salsa verde; principales're touched up by a ropa vieja w/ tamarind-glazed duck confit & fried duck egg, six styles of "Latin Fries" (cactus, red jalapeno...watermelon?), and salsa-abetted rib eye/strip steaks -- get both on one plate and it's sided with chorizo and blood sausage, which will straight smoke you if you bust out a c-walk. The all-new, handcrafted cocktails were designed by PDT/Little Branch vet Cervantes, including a Tito's Blackberry Gimlet, the Turnpike (rye whiskey/applejack/lemon), the Rumbuck (Brugal, ginger, lime, bitters), and a Scorpion mezcal/cucumber/lime number called the Mezcal Maid, who takes out her resentment over your slobdom...by filling your apartment with scorpions!
To skip all the mixers, there's a range of piscos, tequilas, mezcals, and rums served aperitif-style, and a predominantly sub-$50 wine list spanning Spain, Argentina, Chili, and Uruguay, whose only mission is to trick you into thinking they're different than Paraguay.