Salted Caramel Vodka Is Back, and People Are Going Crazy for It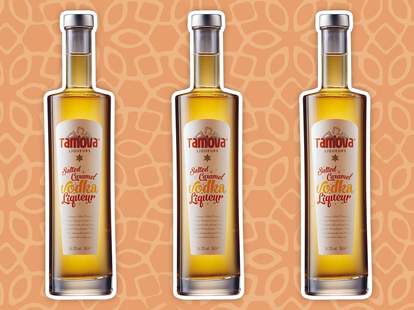 The holidays are approaching, which means Aldi has some sort of sweet, boozy concoction coming to its shelves at an affordable price. In the past, there's been a "pink gin" (actually a pink port), a chocolate wine, and even Prosecco sausages (probably better than sausage Prosecco). This year, an old favorite is taking the grocery store's shelves by storm: salted caramel vodka. The £9.99 (a little more than $13) bottle from Tamova Liqueurs is a British vodka that's made with "the finest rock salt" and comes in at a very light and sippable 20 percent ABV. The salted caramel vodka has been beloved by sweet booze fans for years.
 
Ok @AldiUK we have a problem! You see I told everyone via @itvthismorning that your salted caramel liqueur was delish. Now you've run out!

— Alice Beer (@_alicebeer) December 9, 2015
This year, the obsession continues. It proved so popular, the supermarket totally sold out of the sweet stuff online, although it should still be on store shelves throughout the holiday season. For those who can't make it across the pond, though, you'll just have to tide yourself over with some other sweet options like whipped cream vodka or chocolate vodka, some of which are better than you probably think. Or, if you get really desperate, you can always spike your caramel latte.