Aldi's $17 Whisky Named One of the Top Scotches in the World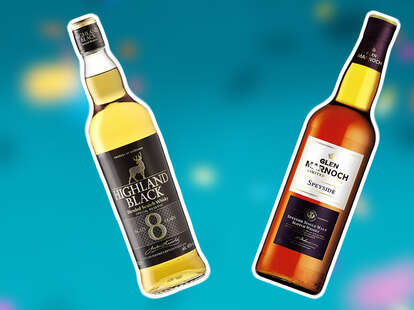 Aldi has conquered budget gin, budget liqueurs, budget rum and budget Champagne. Now it's taken over budget single malt scotch and blended scotch. Aldi's $17 blended scotch, Highland Black 8 Year, and $23 single malt, Glen Marnoch, both won silver medals at the International Spirits Challenge, which is now in its 23rd year. Other silver winners in the competition cost more than $50.
"We are particularly proud of these two whiskies, which have won a whopping 10 medals between them in the past year," Julie Ashfield, Aldi's joint managing director of corporate buying, said according to The Daily Mail. "To be named amongst the best whiskies in the world is a great achievement, and a real testament to the quality of these spirits."
The Speyside single malt was recognized last year by The Spirits Business Scotch Whisky Masters competition, where it beat out The Glenlivet Founder's Reserve. Aldi has been making whisky under the Glen Marnoch brand since 2011, and it's described as having a fruity, sherry cask flavor that's typical of Scotland's Speyside region. That, plus the price, have made it a favorite, along with Aldi's other store brand bottles.
The latest medals mean we can all bask in the thrill of yet another Aldi product punching above its price class. We've all experienced that moment in life when we desire expensive scotch but need to find it on a minimum wage budget. Aldi is here for us at those moments, now with accolades from the International Spirits Challenge.