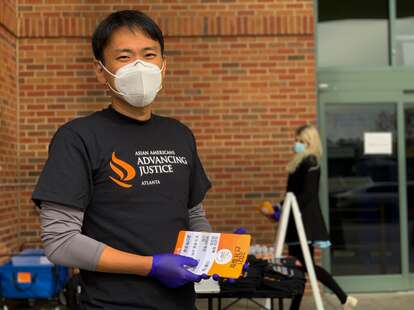 On March 16, the city of Atlanta, as well as the entire country, watched in horror as news surfaced about the tragedies at Young's Asian Massage, Gold Massage Spa, and Aromatherapy Spa—the three Metro Atlanta spas targeted in the fatal string of shootings. The mass shooting resulted in the deaths of eight people, six of whom were Asian women. While investigators have yet to officially declare the shootings as a hate crime, one thing is certain right now: Atlanta's Asian American and Pacific Islander (AAPI) community needs our support.
Following the shootings, it is more evident now to stand up against Asian hate and be a true ally for the AAPI community, especially on a local level. Nonprofit social organization Stop AAPI Hate has revealed that it has received roughly 3,800 reports of anti-Asian hate incidents since the start of the pandemic, and the March shooting tragedy proves why it is imperative to take these hate crimes so seriously.
Condemning Asian hate and helping the local AAPI community following the unspeakable tragedies in Midtown and Cherokee County is of the utmost importance right now. From donating to nonprofits to grabbing a bite of food, Here are some of the ways you can directly help Atlanta's AAPI community right now.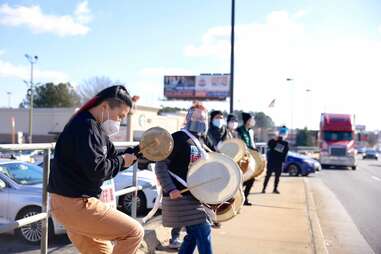 Donate to nonprofits and community efforts
As seen in the past presidential election, Atlanta is a city rooted in change and progression, thanks in part to its hefty assortment of charitable organizations, nonprofits, and social initiatives. Perhaps the most important nonprofit to have on your radar is Asian Americans Advancing Justice Atlanta, which is currently encouraging people to donate to the victims' families and sign a petition in solidarity against Asian hate.
There are several other groups that specifically serve Atlanta's AAPI community, including Asian American Resource Center, Korean American Coalition Metro Atlanta, Asian American Advocacy Fund, Atlanta Chapter of the National Association of Chinese-Americans, Center for Pan Asian Community Service (CPACS), Filipino-American Association of Greater Atlanta, Atlanta's National Asian Pacific American Women's Forum Chapter, and Raksha, Inc.
You can also educate yourself with national movements, such as Red Canary Song and Stop AAPI Hate—which is an amazing online resource that allows you to report any Asian hate incident that you may witness. You can report an Asian hate incident in 11 languages, which helps the nonprofit gather data that informs where it needs to push for better protection, educational resources, and policies. Still, if you or someone is in immediate danger, report the hate crime to local authorities first.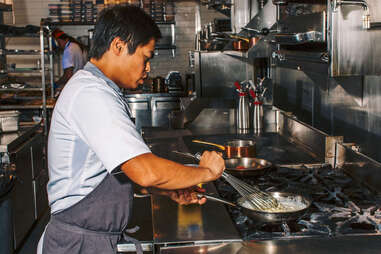 Support AAPI-owned restaurants and bars
Several AAPI-owned restaurants have been struggling since the start of COVID-19, plus have had to endure anti-Asian rhetoric and sentiments. Show your these spots some love by ordering takeout or dining in.
If you're on the east side of the city, consider stopping by Lazy Betty, Thai 5, Sweet Auburn Barbecue, Honey Bubble, Hawkers Asian Street Fare, Ruby Chow's, Poke Burri, and So Ba. Downtown offers spots such as Poor Calvin's and Hsu's Gourmet while the Midtown area boasts a vast assortment of restaurants, including The Consulate, Tuk Tuk Thai Food Loft, Nakato Restaurant, Ginya Izakaya, and Herban Fix. Going further north to Buckhead, you can enjoy Chai Yo Modern Thai, and straddling the perimeter, you'll find spots like Nam Kitchen, The Pirate's Boil, Nam Phuong, and Yen Jing. Further out in Johns Creek, there's Maji Tea Bar, and in addition to popping up across the city, Foodcation Forever is a great option if you're looking to hire a private chef.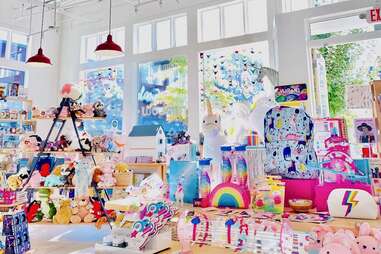 Patron local AAPI-owned businesses
Of course, there are countless other Asian-American and Pacific Islander-owned businesses that you can support in addition to restaurants and bars. For starters, there's the Hello Rainbow toy store in Duluth, which specializes in children's books, learning materials, and fun activities. There's the service industry to consider as well, so getting some cosmetic services from an AAPI-owned spa or salon like Buckhead Nail & Toe Spa, which offers a complimentary drink in addition to handcrafting gorgeous nail designs.
Furthermore, you can always hit up the Atlanta Chinatown Mall, where AAPI heritage and entrepreneurship combine for the beloved Chamblee shopping center. In addition to a food court that could never leave you disappointed, the Atlanta Chinatown Mall is also home to several AAPI-owned businesses, from professional services to novelty gift shop-esque retailers. The mall boasts Dinho Supermarket, as well as one of the few Asian-owned bookstores in the Southeast, Maomi Bookstore.