Get in Formation: There's a Beyoncé-Inspired Beer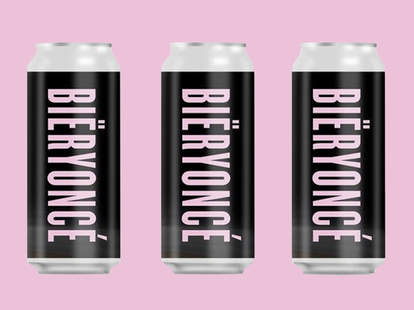 Brooklyn's Lineup Brewing Company recently released a Beyoncé-inspired beer called Biëryoncé and it's fresher than you. It's a German-style pilsner with can art inspired by Queen Bey's self-titled 2013 album, complete with a matte black background and bold pink block letters. Never drop that alcohol.
Biëryoncé is a low-alcohol beer (just 5 percent) that's repeatedly described on the crowd-sourced beer rating app Untappd as a "solid pilsner." In other words, it's the perfect beer to drink all day and night to feel both crazy in love and drunk in love.
The beer was first brewed by Lineup in 2016 when head brewer and co-owner Katarina Martinez couldn't make it to a Beyoncé concert because of an Oktoberfest party.
"I was terribly sad about it, so I decided to name it in her honor," Martinez told Bon Appetit. "I'm also a Hispanic, woman-owned and operated business, so I really look up to her and the strength and empowerment she promotes with women."
This year, the release of the beer is all Beyoncé, all the way. The release party came with a disclosure to "expect a lot of 'Lemonade' on the speakers." Other music-inspired beers that Lineup offers include And I Bet You Think This Beer Is About You and Notorious. Bon Appetit also writes that there's a Ruth Bader Ginsburg beer in the works, which we can only assume will be called Ruth Bader Ginsbeer.
For now, the limited-release Biëryoncé is only available at select New York beer bars and bottle shops like The Ginger Man, Beer Karma and Malt and Mold for $16 a four-pack.